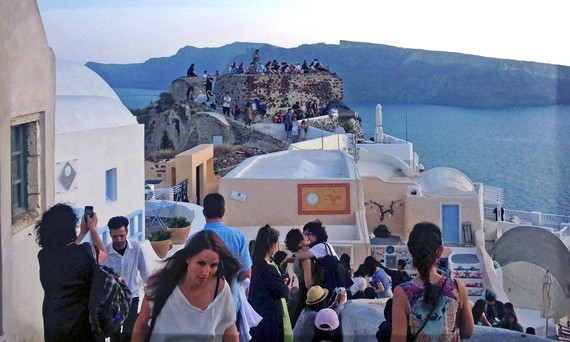 Arriving by boat to Santorini, the theatrical C-shaped island in Greece's Aegean Sea, means first entering the strange purgatory of the port, which of course sits at sea level, 1,200 feet below the villages atop the cliffs that everyone is here to see. Our boat pulled in in the early afternoon of a sunny but hazy day. Even before hitting land, we could feel the collective goodwill draining away. After, people outnumbered the services they were seeking out. We disembarked to discover that our pre-booked ride in a passenger van had been oversold. We were told to wait. We sat at an outdoor café but did not order anything. There is no sense of leisure in the dusty, chaotic, unscrupulous port, only a hammering desire to get out of it.
We called our hotel, through whom the van had been booked. Eventually, a driver in a car fetched us and we began the next leg of the trip. The drive is at first spectacular, and we gaped out the window as we rose above the Aegean. After reaching the summit south of the capital village of Fira, though, Santorini flattens out and smacks of slapdash development. It reminded me most of certain forgotten pockets of Mexico I've driven through, dusty and mismatched, with an undercurrent of hassle. The traffic clogged, we moved at a crawl along a parched, frenetic landscape. I wanted to leave before I'd even arrived.
It makes sense to stop here and make note of the Santorini I'd been hoping for, which was to its disadvantage informed by the place we arrived to it from. My boyfriend and I had just spent five days on the nearby island of Folegandros. Upon arrival there on a boat from Athens, a van from our hotel greeted us immediately, whisked us to our room three minutes away. The hotel sat atop a steep terraced hill that sloped straight down into the sea. We asked how old those terraces were, and the proprietor of the hotel told us in all earnestness that they are as old as time itself. Every morning a herd of goats made its way down the hill, terrace by terrace, and every late afternoon climbed back up.
travel
santorini
Greece
summer travel