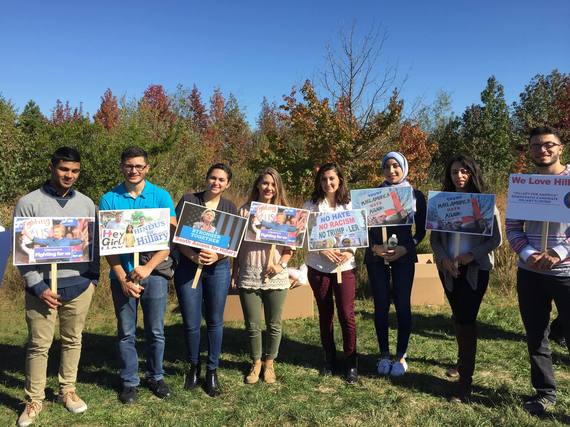 Last weekend, the Hindu Republican Coalition hosted a rally for Republican Presidential Nominee Donald Trump in Edison, New Jersey. The rally, called "Hindus United Against Terror Charity Concert," featured Indian Bollywood stars and was advertised as a charity concert for terror victims.
The Hindu Republican Coalition's founder, a Chicago based businessman Shalabh Kumar, donated $898,000 to Donald Trump's victory fund and hosted the concert. The concert drew thousands of Indian-Americans throughout the state, who came primarily for the Bollywood entertainment with many unaware that the Republican presidential nominee would be attending.
When we in the wider Hindu, Indian and South Asian community heard that Trump might be visiting Edison, a town which boasts a population of over 25,000 Indian Americans and over 36 percent of its population from the Asian American community, we were in disbelief. While the organization hosting the concert claimed he was attending, we heard reports that said he would not be able to make it.
Three days before the event, we started to receive positive indications that Trump was coming to our home state and we knew we had to act. We could not let an out of state donor frame a narrative within the presidential election that the general Hindu-American community was in favor of the values and beliefs that Donald Trump represented.
We decided that the best way to address Trump's visit and to let the nation know that he did not represent the Hindu or Indian community, was to hold a press conference.
On Wednesday, we started reaching out to community leaders throughout New Jersey. We called on leaders that represented Hindus, Indians, Sri Lankans, Pakistanis, Bangladeshis and many others in the state's South Asian community. We had to show that we were united against Trump's divisive campaign rhetoric.
We quickly began to receive diverse support from communities across the state and then from our elected officials who heard that we were mobilizing a counter message to Trump. What was originally supposed to be just a press conference grew to a gathering and rally of the South Asian community against Donald Trump.
In what was sure to be a polarizing speech by Trump, we wanted to contrast his message to ours of unity. His consistent theme of prejudice, bigotry and hatred to ours of community, empathy and caring. When he painted a world full of darkness, we wanted to shine a light on the beauty and color of our neighbors. We wanted to celebrate our diversity with samosas, music and the bright flags of our motherlands across South Asia.
It wasn't until the evening before the Trump rally that we were informed of the location where our rally and press conference would be based. Logistically, we were in a tough position with less than a day of planning left. However, our community made it happen.
A local Indian restaurant donated samosas, a Muslim community leader with a construction business donated a generator for power, a Hindu entertainer provided music equipment and served as the DJ. This support continued to build even on the morning of the event, with community members making signs, bringing in dozens of flags and giving rides to people who did not have cars.
Elected officials came from across the state to help, from a congressman and state assemblymen to local freeholders, councilwomen, school board members and party officials. College students organized at their school and came out in their Rutgers University sweatshirts. We saw babies, young professionals, parents and senior citizens.
The support was overwhelming and I could not have been prouder of my community outside that moment. The community put aside their differences to come together. We did not have a million dollars to host a flashy concert or months to prepare. All we had was the support of our community and we worked together to pool our resources to make it happen.
What was supposed to be a community response to values we did not agree with or support, became something bigger. It was a start to a shared purpose that transcended politics or even the presidential election. It showed that the South Asian community could achieve incredible success if we worked together.
For me personally, it embodied the message, theme and culture of a campaign that I believe stands for the true interests and values of my community. We learned a lasting lesson that day, that we truly are Stronger Together.
--
Amit Jani serves as the New Jersey State Representative and Communications Director for South Asians for Hillary.
REAL LIFE. REAL NEWS. REAL VOICES.
Help us tell more of the stories that matter from voices that too often remain unheard.