Irish 'Angela Merkel thinks we're at work' fan marries German bride - BBC News
Posted: Sun-Jan-2020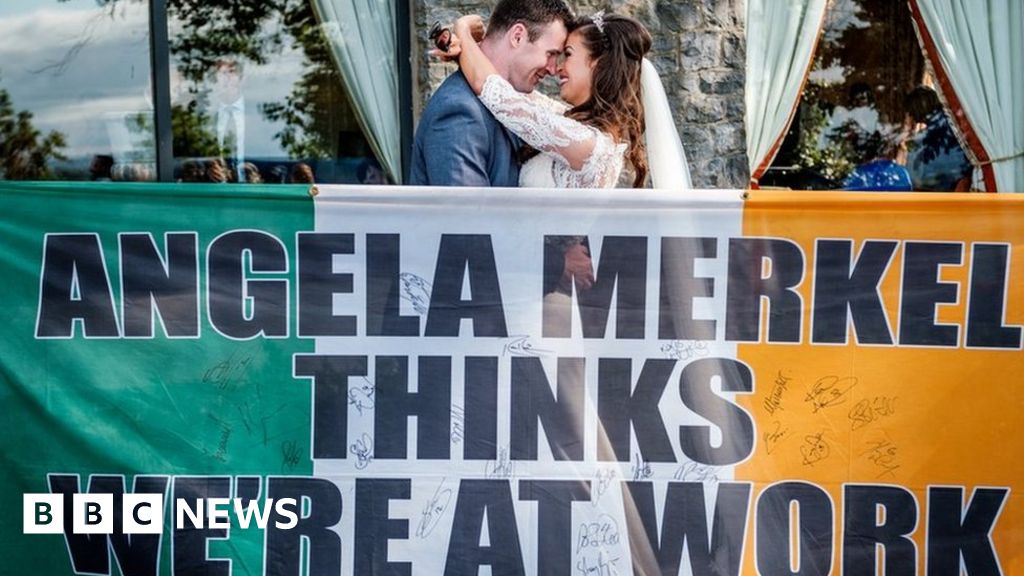 Ireland fans hit headlines at Euro 2012 with their "Angela Merkel thinks we're at work" flag.
"Angela Merkel thinks we're at work."
It was the Irish flag with a difference that hit the headlines around the world during Euro 2012.
Seven years after it was debuted by Republic of Ireland fans, one of its creators, Richie Tuohy, has tied the knot with German woman Orlagh Eichhol.
And the German chancellor even put in an appearance on their wedding day by way of a signed photograph and message to the happy couple during the father of the bride's speech.
In the letter Mrs Merkel said: "Marriage, like life itself, is not a comfortable and peaceful state.
"But a great adventure with many surprises and trials to pass."
Speaking to BBC News NI, Mr Tuohy, 31, said: "I had this experience in 2012 with my friends and it's great to have it now with my beautiful wife."
The pair met in Dublin in 2012, a few months after the football tournament.
Headlines: